Spring in Vancouver, 2018. I know it has nothing to do with curry, I'm just tired of winter here in Toronto.
I made a red curry with shrimp for the second time, making sure to incorporate modifications from the first attempt. It was so good that I knew I had to save it here for future me and for anyone else that enjoys cooking or eating Thai food.
I'll start by sharing a picture of the finished meal. Unfortunately, I didn't think to take one until I already started eating so it lacks that picturesque composition with the unadulterated garnishes resting on top. You'll have to trust me that it's delicious even if the picture leads you to think otherwise.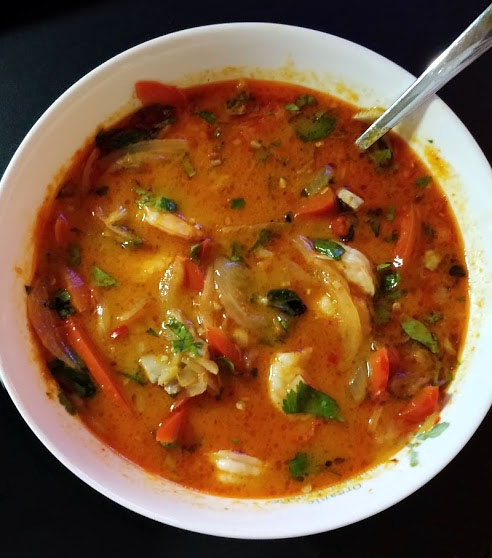 Servings: 4 hungry adult portions.
Cook time: The curry takes roughly 20 minutes to cook. The homemade shrimp stock takes 45 minutes to cook. You'll have to factor in prep time based on your own abilities.
---
Shrimp Stock
The amount of stock you can make depends on the type of shrimp you have at hand. If you have fully shelled shrimp (with or without the head and cool little pleopods) then you can easily make a big batch of around 12 cups. If you only have shrimp with the tails, then you'll want to make less stock.

The first time I made this recipe I had full shells and cooked up the full-size 12 cup stock. This time around I only had tails, so I made the 4 cup stock. I also didn't bother reducing the portions of the other ingredients, which is probably a bit wasteful. Feel free to experiment and cut down the other ingredient quantities.
With only tails:
1 lbs (~ 8 cups) shrimp; remove the tails and set aside 1.5 cups of shrimp for the curry
4.5 cups of water (yields ~4 cups of stock)
0.5 tsp black peppercorns (ground pepper is fine)
0.5 tsp salt
With full shells:
1 lbs (~ 8 cups) shrimp shells
16 cups water (yields ~12 cups of stock)
1 tsp black peppercorns (ground pepper is fine)
2 tsp salt
Other ingredients:
1 cup yellow onions, coarsely chopped
1/2 cup celery, coarsely chopped
1/2 cup carrots, coarsely chopped
3 garlic cloves, smashed
2-3 bay leaves
1 tsp dried thyme
1 tsp black peppercorns (or just add some ground pepper)
---
Collect the shells and rinse under cold water.
Add everything to an appropriately sized pot and bring to a boil.
Reduce heat to a simmer. Partially cover. Cook for 45 mins.
Periodically skim off any foam that builds on the surface. It'll likely be brownish-grey in color.
Once done, strain the contents into a bowl/container, completely cool it immediately via an ice bath.
You can store the stock in the fridge for three days or freeze for two months. Set aside for now.
---
Curry
1.5 tbsp olive oil
1.5 cups shrimp stock
1/4 - 1/2 lbs raw shrimp
1 large yellow onion, sliced or diced
3-5 garlic cloves, minced
2 tsp galangal, minced/grated (can substitute with regular ginger)
1 red pepper, thinly sliced and de-seeded
A bunch of mushrooms of your choosing, chopped
1 (400 mL or 13.5 oz) can of regular or light coconut milk (I use the regular Thai Kitchen brand)
3 tbsp red curry paste - it'll be a bit spicy so use less if you want a milder curry (I used premade paste from AROY-D and I'm sure a homemade paste would be even better!)
2 tsp fresh lemongrass, finely minced (just shy of 1 stock; it's OK to add the entire stock)
2 tbsp palm sugar (can substitute with brown sugar)
5 kaffir lime leaves (can substitute with lime juice)
1 tbsp fish sauce
salt n' peppa
Handful of fresh Thai basil leaves
Rice or rice noodles
Other ideas to try: carrots, sweet potato, snap peas, broccoli. You can also substitute the shrimp stock with chicken stock and the shrimp with chicken or tofu.
Garnish
Red chili pepper, diced
Green onions, thinly sliced
Fresh cilantro, chopped
Lime wedges
---
Start prepping ingredients while the stock is boiling. You may also want to get your rice going now depending on how long that takes to cook. Keep in mind that the curry takes around 20 minutes. When the stock is cooled proceed with the next steps.
In a large bowl whisk shrimp stock, coconut milk, and lemongrass until the coconut milk clumps are gone. Set aside.
Heat oil in a medium/large soup pot or a deep sauce pan on medium heat. Once hot, cook the onions, garlic, ginger and a little salt for about 5 minutes or until the onions start to become translucent. Periodically stir so that the contents don't burn.
Stir in the curry paste. Use a wooden spoon or spatula to smush the curry so that it evenly cooks. Cook for 2 minutes.
Stir in the stock & coconut mixture. Bring to a boil.
Add red peppers, mushroom, shrimp and 3 of the lime leaves. Cook until the shrimp turns pink, about 2-4 minutes.
Add fish sauce, sugar, and season with salt & pepper to your liking. Remove from heat.
Tear basil into halves if the pieces are large. Add to curry along with the remaining lime leaves.
Cover the curry and let it rest for 5-10 minutes for the flavours to further develop.
Serve the curry and garnish with cilantro, green onions and chili if you like it extra spicy. Optionally squeeze a lime over the bowl, although I didn't bother because the lime leaves were fresh and zesty.
Eat it.
I hope you enjoy this curry!